1. KRAFT Foods
KRAFT produces foods such as Cheez Whiz, Mayo, Miracle Whip, A1 7 Bullseye Barbeque Sauces, Jello, Maxwell House, and Nabob.
This parent company also owns assorted drink and soda brands such as A&W, Dr. Pepper, Welch's, Mott's, Canada Dry, Crush, Clamato, Snapple, Squirt, and Sunkist. Other drinks and foodstuffs they own include RITZ, Wheat Thins, Planters, Triscuit, Del Monte, Kool-Aid, Capri Sun, Philadelphia Cream Cheese, Cracker Barrel, and Velveeta.
And KRAFT also owns manufacturing companies of sweet foods and brands such as Bakers, Toblerone, Cadbury, Certs, Chiclets, Bubbleicious, Stride, Halls, Dentyne, Clorets, Oreo, Fig-Newton, Teddy Grahams, Chips Ahoy, Maynards, Caramilk, Sour Patch Kids, Crispie Crunch , Oscar Mayer, Shake & Bake, Honey Maid, and Mr. Christie's.
2. Unilever
Unilever is a well-known corporation that owns a wide range of companies that produce products from household and personal care items to food stuffs as well. They own some of the most famous companies and brands out there, things that you probably have in your house at any given point.
Unilever ranks #113 on the Forbes Global 2000 list and is worth a little more than $129 billion. Several of the companies and brands that Unilever owns which produce products to clean and maintain both your house and also used by yourself, which includes: Sunlight, Vim, Via, Sun, and Breeze, Q-tips, Comfort, Degree, Vaseline, Dove, AXE, Lever 2000, St. Ives, Suave, Noxema, Thermasilk, TRESemme, Alberto and Cutex.
Unilever also owns brands that produce some of your favorite frozen treats like Cornetto, Ben & Jerry's, Popsicle, Klondike, Magnum, and Breyer's too.
3. PepsiCo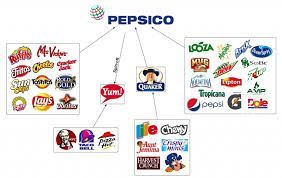 Pepsi doesn't just make drinks, they also produce a great many other things. PepsiCo is a huge parent company that owns several other major brands.
PepsiCo even owns Yum!Brands which is the organization that used to be known as Tricon Global Restaurants, Yum!Brands operates licensed brands such as Taco Bell, KFC, Pizza Hut and Wing Street. They also own many brand name drink comapnies like Tropicana, Auquafina, MUG Rootbeer, Mountain Dew, 7up, Sobe, Brisk, and Gatorade too.
PepsiCo also owns Quaker, the people that make Aunt Jemima, Captain Crunch, Life cereal, Chewy granola bars, and many other grain products too. Finally, you can't enjoy a Pepsi without some chips and that's why they also own Ruffles, Fritos, Sunchips, Lays, Tostitos, Doritos, and Cheetos.
4. P&G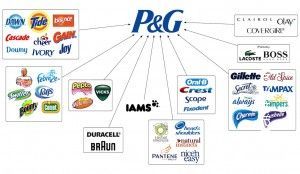 P&G is one of–if not the world's biggest–parent company on the globe today. This corporation owns two food companies, such as IAMS which produces dog food, and Pringles the chips that don't stop according to their media campaign, but there are still many brands and products you use everyday that are made by other companies owned by P&G.
Corporations like Dawn, Tide, Bounce, Cascade, Gain, Joy, Cheer, Ivory, Zest, Downy, Mr. Clean, Febreze, Bounty, Comet, and Puffs are all companies which produce cleaning products are owned by P&G.
P&G owns several companies in the personal hygiene and health field as well; Herbal Essence, Head & Shoulders, Pantene, Nice'n Easy, Gillette, Old Spice, Tampax, Pampers, Always, Charmin, Oral-B, Crest, Scope, Fixodent, Vicks, Metamucil, CLAIROL, Olay, Covergirl and Pepto Bismol are all owned by this parent company. They even own BRAUN, Duracell, PUR, Lacoste, and Hugo Boss too.
5. Nestle
Nestle also produces many other things besides food and chocolate, or should we say that they own many companies such as Nestle owns L'Oreal, Garnier, VICHY, Maybelline, The Body Shop, and Biotherm.
Nestle owns L'Oreal, Garnier, VICHY, Maybelline, The Body Shop, and Biotherm. Apparently Nestle really likes to produce makeup and not just chocolate. Makeup isn't the only major part of Nestle's portfolio.
By proxy of owning L'Oreal, Nestle also owns Ralph Lauren, Giorgio Armani, Yves Saint Laurent, and DIESEL, or at least they own the product licenses for their perfumes.
Nestle predominately owns corporations that produce pet food, they own Purina, Beneful, Friskies, ALPO, Fancy Feast and more. Not only do they dominate in the dog food industry, but they also rule the world of the chocolate bar.
The are just some of the companies and products that Nestle owns: Wonka (Nerds, Laffy Taffy, Gobstoppers, Runts, & Sweet Tarts), Turtles, Rolo, Kit Kat, Aero, Jello, Coffee Crisp, O'Henry, Crunch bars, Drumsticks, and Parlour ice cream.
Among their food products are surprisingly enough food and drink companies that aren't sweet. Nescafé, Coffee Mate, Perrier, Vittel, Poland Springs, Stouffer's, Delissio, and Hot Pockets Are other food companies owned by Nestle.
6. Johnson & Johnson
Johnson & Johnson is one of the world's largest producers of medicine and medical supplies, it ranks #34 of the Forbes Global 2000 list, and has a current net worth of just over $275 billion.
Johnson & Johnson owns corporations all over the globe from Beijing to Europe and back to the good ol' US of A. Their main subsidiary is Johnson & Johnson Medical which has offices in Korea, Mexico, Australia, Russia, Italy, South Africa, Japan, India, and more.
You might be surprised to hear that they own companies that make medical diagnostic tools as well as companies that study viruses. Some of their more well known ventures include The Tylenol Company, Splenda, Aveeno, Nicoderm, Rolaids and Clean&Clear. They also own international medical and cosmetic companies like, Beijing Dabao Cosmetics Co Ltd, DePuy, Calig, ColBar Life Science, Amic AB, Alza Ireland Ltd, Ethnor Farmaceutica and Janssen Pharmaceutical.